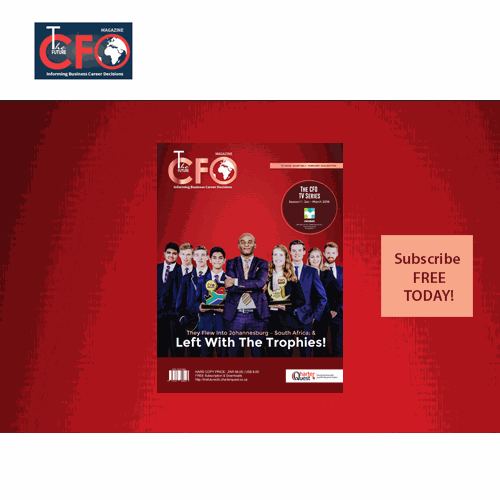 The Future CFO Magazine was born to inspire, mirror and inform the challenging career decisions of aspiring and current finance & business professionals primarily in Africa, with a global appeal and perspective. It stems from years of work alongside some of the world's most reputed chartered professional bodies, big businesses, policymakers and leading universities to groom future business leaders.


Our Readers study hard, secure career-relevant jobs and attain the Chartered Professional Designation in order to pursue their dreams, oftentimes: 'Future CFOs' but by no small measure, C-suite executives, with varied success. Intelligence to guide their career decisions often is the single most important determinant of their success. This magazine does just that!

It is published digitally 3 times a year. In October, January and June with at least one edition being in hard copy, ideally the October edition. The Magazine priced at R98.00 per copy was launched at the Johannesburg Stock Exchange on October 13, 2016 during the global semi-finals of
The CFO
Case Study Competition with 10,000 free hard copy launch editions circulated the next day on our stand at the Finance Indaba Africa Expo at the Sandton Convention Centre and subsequently to universities, policymakers, professional bodies and young finance and business students and professionals in South Africa, across Africa and around the world.
Our Mission
The Future CFO I nforming Career Decisions magazine aims to create a business culture, endorse a business mentality and groom business thought leaders by providing society with quality educational information and providing a platform for debate and self –development.
Our Core Values
Educational Value
The Future CFO's very existence is to educate and inform society and encourage professional education. The aim is to raise awareness, make an impact and leave an educational impression with every edition of our publication.
Accuracy
The Future CFO is a strong believer of checking its facts and weighing its content value before it gets to its audiences. All articles written by staff writers will be checked for factuality, contributed and third party articles will also be treated in the same manner in order to maintain an exceptional standard.
Opinion Pieces
The Future CFO stands for freedom of expression and the opinions of professionals, members of society and freelance writers are welcome. In the instances of third party articles or articles submitted to us by members of society and professionals, thorough checks for factuality and truth will be done. Only articles that we feel are in the best interest of our audiences and will benefit society will be published. The same applies to letters to the editor.
Social Obligations
CharterQuest and its publication/ Subdivision The Future CFO is dedicated in making a difference in the lives of people. We stand for the betterment of the lives of the members of society. Annually, The Future CFO will donate time and a percentage of revenue to the cause of educating the underprivileged. In this regard planned campaigns will be discussed by the board and Management. All Campaigns will be announced by The Future CFO's Management or that of CharterQuest on our social media sites and on the publication itself or through press conferences, this will be done for authentication purposes.

Website may use cookies to personalize and facilitate maximum navigation of the User by this site. The User may configure his / her browser to notify and reject the installation of the cookies sent by us.
Focus Areas
It is the duty of The Future CFO Informing Business Career Decisions and its staff to serve its purpose as a publication to society by means of developing it and uplifting the members of society - society referring to all nations. This will be done by educating and informing society on various topics related but not limited to:
Management accounting & decision making
Financial accounting and corporate reporting
Auditing & assurance
Taxation
Corporate governance & business law
Strategy, performance and change management
Risk management
Financial management
Information technology, systems & big data
Organizational behaviour & human capital management
Business and professional ethics
Project management
Management & leadership principles
Operations management
Supply chain management
Marketing, sales, communications and public relations management
Customer service
Entrepreneurship
Economics
Editorial Layout & Style
Language
The language used in The Future CFO Informing BusinessCareer Decisions is professional, corporate and appropriate. Uses of vulgar, racist phrases and indecent language are NOT permitted. No Journalist, writer, commentator or contributor's work will be published without a thorough check of language. In cases where a commentator and contributor's language does not reflect The Future CFO's style or Flair we reserve the right to improve or make changes to it. We also reserve the right not to publish literally works that do not reflect, emulate or represent The Future CFO and its brand correctly.
Views and Perceptions
No obscenity, inadequate/ narrow minded opinions and perceptions will be accepted. The Future CFO stands to promote an open-mindedness in society.

Themes
Themes and tones are subject to change with the content of the magazine on a variety of topics. This is due to the publications' wish to remain relevant and to reinvent itself timeously.

Content Time Span
The Future CFO aims to structure its content in a way that will ensure the content stays relevant for a longer period of time as this publication is a guide for professionals and aspiring professionals/leaders it is also a referral and educational material to our audiences.

Contributions are invited from the following:
Staff writers and Journalists
Freelance writers
Bloggers
Professionals
Media organisations
Universities
Government agencies
Non-profit organisations
The Future CFO Informing Business Career Decisions
allows sources that wish to remain anonymous. In cases where a source submits sensitive information, The Future CFO may choose not to reveal the identities out of the best interest of the source or person(s).
For third-party content , full accreditation will be given to the original Author of the Content.
Full accreditation will be given to the advertisee and the sponsor in the publication as well as on our online version of the publication and websites.
To find out more about how to advertise and our advertising packages, please email [email protected]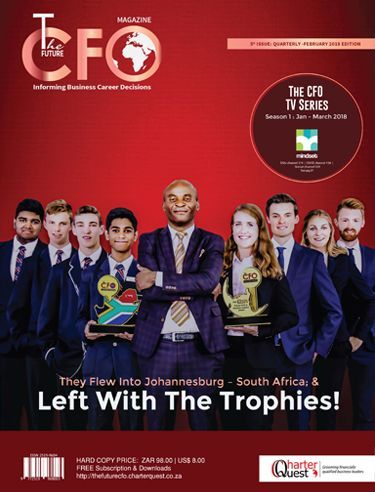 File Size: 22 MB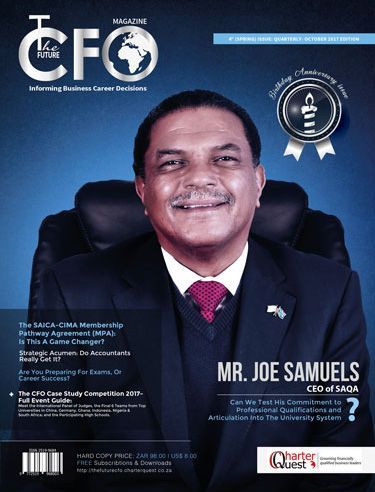 File Size: 19 MB
File Size: 8.4 MB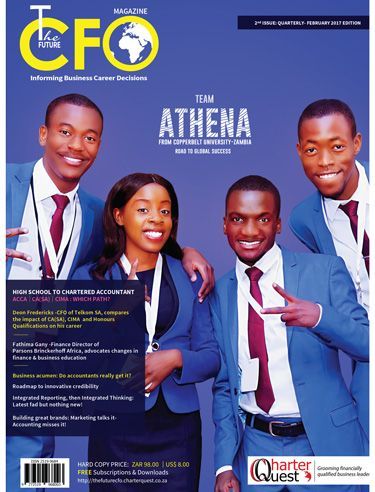 File Size: 19 MB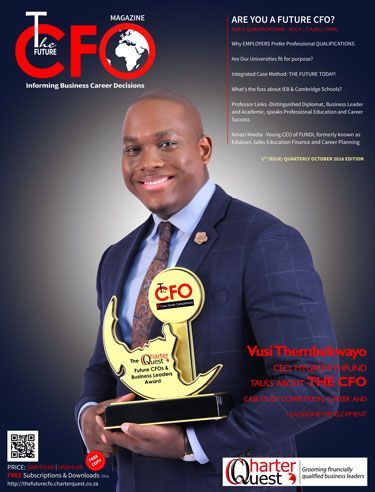 File Size: 16 MB