OUR CIMA-TO-SAICA BOARD 1 (ITC) PREPARATION COURSE
Download Course Pack (PDF)
As a CIMA-qualified, although you are exempted from the CTA in terms of the new SAICA-CIMA Membership Pathway Agreement (MPA), passing the SAICA Board 1/ITC requires up-to-date and very technical knowledge of the following 5 UNISA-aligned CTA modules; and that you take our SAICA Board 1/ITC Exam Preparation Course as below:
Advanced & Applied Financial Accounting I (FAC4861/3);

Advanced & Applied Financial Accounting II (FAC4862/4);

Advanced & Applied Management Accounting (MAC4861/2);

Advanced & Applied Auditing (AUE4861/2);

Advanced & Applied Taxation (TAX4861/2); and

SAICA Board 1/ITC Exam Preparation Course.
Item 6: the SAICA Board 1/ITC Exam Preparation Course itself is intensive, assumes full CTA knowledge; and shifts from individual application of modules 1-to-5 as above, to the integrated application as approached in the actual SAICA Board 1/ITC Exam.
You are required by the new SAICA-CIMA Membership Pathway Agreement, to pass the SAICA Board 1/ITC exam within a maximum of 2 attempts in any two calendar years. Should you not pass the exam after these attempts, you will be required to go back and do the CTA –thus, forfeiting your claim to the coveted CA(SA) designation under this express route.It is for this reason that we want to prepare you to get it right and pass 1st time in order to avoid being sent back to do the CTA. We therefore, strongly recommend that you enrol with us for the above 6 (5 CTA modules + 1 SAICA Board 1/ITC Exam Preparation Course) and undergo a full 10-12 months of face-to-face classes (Evenings and/or Weekends) in preparation for your SAICA Board 1/ITC Exam.
Message from an SA Top Dual Designation FD/Group CFO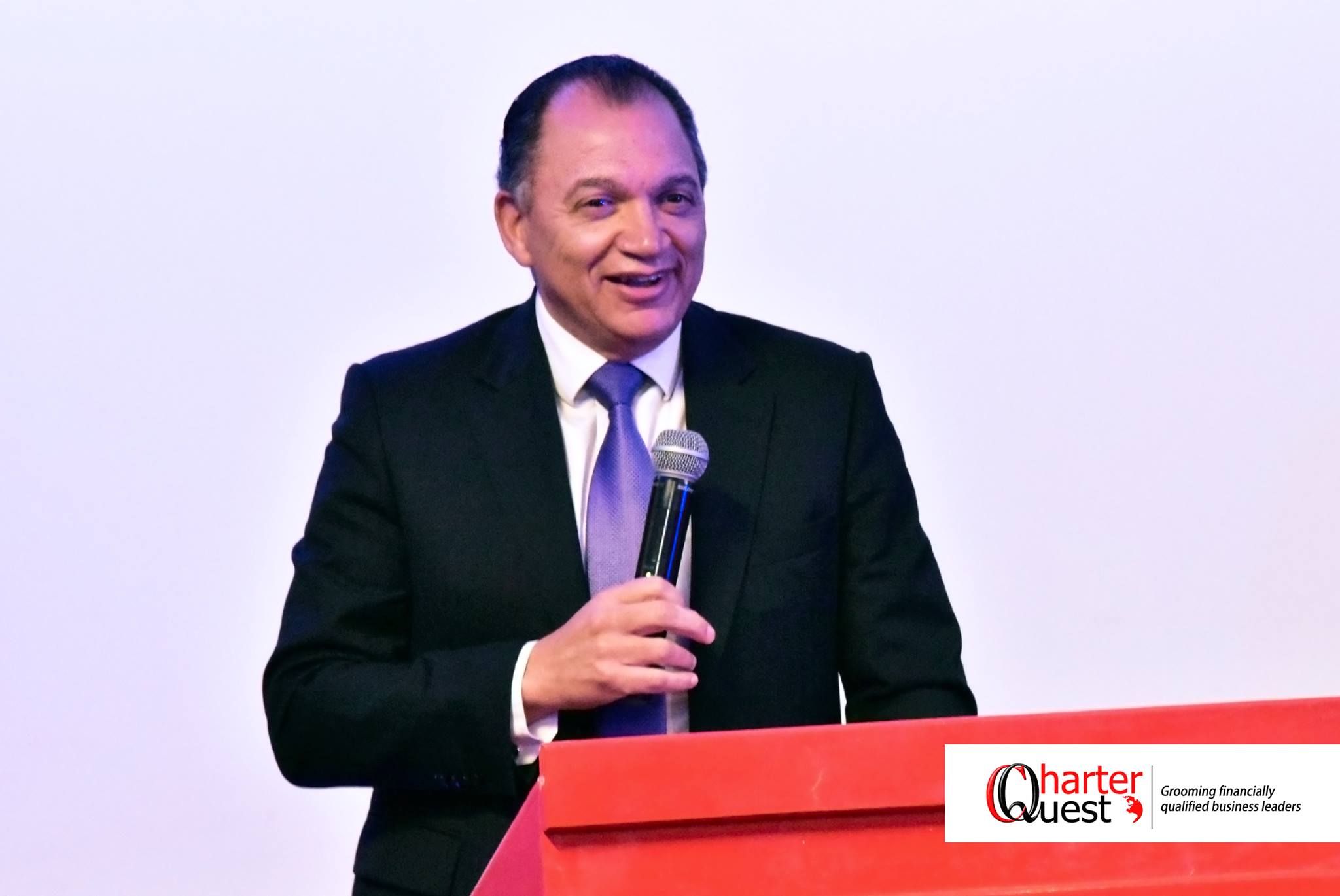 Deon Fredericks
"...In South Africa, you are expected to be CA(SA) especially to get to FD or CFO position... CIMA [-on the other hand-] is very focused on management accounting and the day-to-day operations, how to manage your costs and how you strategically put the whole business together. The CA(SA) is very much on the financial reporting side, it will address tax for example -and auditing, so it has a lot to do with your control environment; it gives you some insight in terms of business but ultimately, it's good to have both because they overlap whilst addressing each other's weaknesses."
Am I Eligible?
Your eligibility is determined by the number of years of relevant experience you have since you became a fully-qualified CIMA Member ("Post Qualification Experience"). Download Course and refer to page 2 to follow your eligibility.
Download SAICA Requirements here.
Eligibility Questions?
For more information, please visit our FAQs section, download our coursepack or email us at [email protected]
Combined CTA (Refresher) & ITC Course
On-Campus/Livestream For Self & Company Sponsored Students
TEPP - W
Combined CTA (Refresher) & ITC Course
Livestream/Online Classes with Video Recorded Classes
TEPP - W
SAICA Board I/ITC Exam Preparation Course Only


ITC Prep Only (Weekends/Livestream) Classes
INTAKES:
Each study option above has the following intakes:
Jan 2021 Intake (for Jan 2022 SAICA Board 1 Exam sitting); and

Jan 2021 Intake (for June 2022 SAICA Board 1 Exam sitting).
Fees & Study Benefits
Payment Terms: +20% deposit and balance payable over 6 months.


Course Package

Fees per Module

(Excluding Books)

Fees per Module

(Including Books)

Advanced & Applied Financial Accounting I



TEPP (W or I)

R7,188

R9,188

Advanced & Applied Financial Accounting II

TEPP (W or I)

R7,188

R9,188

Advanced & Applied Management Accounting

TEPP (W or I)

R7,188

R9,188

Advanced & Applied AuditingAdvanced & Applied Taxation

TEPP (W or I)

R7,188

R9,188

SAICA Board I/ITC Exam Preparation Course

EPOP (W or I)

R9,890

R11,890

Combined CTA & ITC Course (For self-sponsored students ONLY)

TEPP (W or I) Combo 1

R41,573

R51,573

Combined CTA & ITC Course (For company-sponsored students ONLY)

TEPP (W or I) Combo 2

R45,828

R55,828

Combined CTA & ITC Course (Interactive Livestream)

TEPP (I) Combo 3

R39,100

R49,100

The above fees are valid for 2021 but subject to 10% escalation from 2022, and covers ALL the required study materials (Prescribed Texts, Questions and Answer Banks, Course Notes + Mock exams) but excludes exam and registration fees due to the Professional Body.
You can join the 2021 intake by enrolling and starting your payments prior to December 15th to secure these 2020 prices. Subject to spaces still open, enrolments for the June 2020 Intake will close on the 15th of June and that of the January 2021 intake will close on the 1st of February 2021.
PAYMENT TERMS:

Pay ONLY a minimum of 20% per course together with a 1 – 6 months signed debit order mandate for the balance. This will secure immediate access to class as well as your study materials. Enrol or Get A Free Quote.
The Interactive Livestream will beam the classes live over the internet for students who can not physically join our classes in Rivonia-Sandton.
Video-recorded versions of the Livestream will then be made available (secured access) to students to catch up on any classes they missed due to work commitments.
Prescribed Books List
Books Included in your Package should you take our Full Package including books. If you wish to bring your own books, please ensure you have the following:
| | |
| --- | --- |
| Course Code | Prescribed Title |
| FAC 4861/3: | SAICA VOL 1 & Descriptive Accounting |
| FAC 4862/4: | SAICA VOL 1 & Group Statements VOL 1 & 2 |
| MAC 4861/2: | Managerial Finance (Skae) & Management and Cost Accounting (Drury) |
| AUE 4861/2: | SAICA VOL 1, 2 AND 3, Applied Questions on Auditing & Auditing Notes for SA Students |
| TAX 4861/2: | SAICA VOL 3, Silke on SA income Tax & Advanced Questions On SA Tax (Juta) |
Timetables Now Available (2022 Enrolments Open)

Select below to get timetables
Qualification
Level
Campus
Semester
Study Option/s
Subject/s
Frequently Asked Questions (FAQs)
The FAQs below emanate from the above Breakfast show organised by The CharterQuest Institute to respond to student queries about the CIMA-SAICA MPA. At the time of the event, it was not clear how SAICA will deal with certain pertinent questions. So, we provided you our best answers but undertook to confirm certain procedural issues with SAICA - having done so, we hereby publish our updated questions and answers. We hope this page helps you answer your pertinent questions about the agreement and our course structure. You are welcome to double-check our answers with SAICA (to Adrik:[email protected]) before making any final decision.
1. The SAICA-CIMA Membership Pathway Agreement states one must have relevant 2 years post-CIMA membership qualification experience to be eligible. How does one determine if his or her experience is relevant?
Relevant experience will typically fall within three categories as prescribed in the SAICA Training Programme:
Compulsory skills (Accounting and External Reporting, Professional Conduct, Management and Leadership, Personal Attributes, and Information Technology);
Elective Skills (Audit and Assurance, Financial Management, Management Decision-making and Control, Taxation, Risk Management and Governance); and
Residual skills (which may include the above elective skills).
As you are required to conduct a self-evaluation of competence against the prescribed competencies for the SAICA training programme, you will need to pay specific attention to the above skills. For more information, visit the following link on SAICA website.
2. SAICA requires that a 'Portfolio of Work' be submitted as part of the application. Does the portfolio include all the experience before and after becoming a full CIMA member?
No. SAICA also requires a Curriculum Vitae -and surely, that will need to have to include all work experience. However, the Portfolio of Work should focus on your post CIMA membership experience. As you would have already used all experience obtained prior to becoming CIMA member as part of your CIMA membership application, SAICA will mainly be interested in Portfolio of Work you undertook since becoming a CIMA member.
3. As a CIMA member who becomes CA (SA) under this agreement, will I be able to independently practice as an Auditor in South Africa as other CAs (SA)?
4. How long does SAICA take to make a decision on my work experience and submission?
It differs from one application to the other. A number of cases have been concluded within 1-10 days.

5. But I was told all applications must be submitted by September 5th and an internal Board within SAICA will decide on October 5th 2017 on my application. Is that correct?
This is not true. The relevant SAICA committee meets three times per annum, in March, June and October. Our general advice is that you should start the process as soon as possible -especially if you wish to join our September/October 2017 intake in preparation for the June 2018 SAICA-ITC/Board 1 exam sitting. Although it is not necessary to await SAICA decision as you are automatically eligible if you have CIMA+ 2yrs post-qualification experience, we are currently in consultation to determine if to shift the start date of our September/October intake by a few weeks to allow those who nonetheless, wish to await SAICA decision to join the course.
6. Will I be eligible to write the ITC if my experience is 2+ years even if I still don't meet the 3-5 years post qualification experience category?
Yes! You will be eligible to write the ITC but will not be able to claim any reduction in the number of years to complete a SAICA Training contract -from the standard 3 years, unless and until you have had the minimum of 3-5 years of relevant work experience.
7. Can you tell us a bit more about the course you offer to prepare CIMA members who are eligible to write the SAICA Board 1/ITC Exams?
We begin on September 30th for the June 2018 exam sitting. For the January 2019 Exam sitting, we begin in February 2019. You can attend our course by booking for the Tuition and Exam Preparation Package (TEPP) which runs in the Evenings or over Weekends. Students who are away from our Sandton Campus can book for the TEPP –Interactive Livestream Package. For more information about our course, download the CIMA-to-SAICA Membership Pathway Agreement Course Pack 2017/2018/2019

8. I see your course structure is aligned to the UNISA CTA. Why UNISA? Why not Wits, UJ or UCT?
UNISA alone enrols almost half (40%) of all accounting students in South Africa and its CTA course structure is more open to CharterQuest –being a distance learning institution. In the most recent June 2017 SAICA ITC Exam sitting, ''Candidates who completed the CTA Programme with UNISA have achieved excellent results, with a 69% pass rate for candidates attempting the ITC examination for the first time, and a 60% average for all candidates from UNISA. In total, 401 former UNISA students passed the ITC examination. This represents 21% of all successful candidates. UNISA also outperformed all other universities in terms of the number of successful candidates, as well as outclassing some residential universities in the percentage pass rate.'' http://www.UNISA.ac.za/sites/corporate/default/News-&-Media/Articles/Classy-results-from-CAS-in-2017-SAICA-ITC

9. Your course pack is silent on your lecturers. What is your policy on lecturers for this course? When can we see their names published?
The SAICA Board 1/ITC has undergone major changes in the recent past. To ensure up-to-date knowledge of the ITC, we mainly hire passionate professionals who passed and/or taught SAICA Board 1/ITC in the last 3 years, are CAs and/or ACCAs and/or CIMA-qualified -but with numerous years of experience in teaching CTA/SAICA Board 1 courses; or ACCA subjects with heavy technical content in IFRS, taxation and auditing. We prioritise lecturers who have mastered the CIMA and CTA/SAICA Board 1 curriculum, to make the unique judgements required to fast track CIMA members to quickly master the rigorous integrated technical skills embedded within IFRS, taxation and auditing -as required to pass the SAICA Board 1/ITC Exams. At this time, we are still finalising lecturer contracting and will publish their profiles no later than August 31, 2017.

10. Is it possible to enrol in September but write in January 2019?
Yes! But keep in mind our September intake will be for June 2018 exam sitting, so all the IFRSs and SAICA pronouncements we will teach will have a cut off for June 2018. It is possible that some of your books will be expired by the January 2019 exam sitting and because some of the pronouncements that will be applicable in the January 2019 sitting will not be applicable yet for the June 2018 sitting, this will not be covered. You will then have to do the extra work necessary to update your knowledge for any changes in study materials or examinable pronouncements.

11. What course and study material are we going to be provided with?
We will provide the prescribed study texts, slides/course notes and past questions and answers, and will drive the teaching in class through the slides/course notes which will include a fair amount of practice questions.

12. What does one do for 15-20 hours a week when they are not in class?
Having covered the core examinable materials in class using the course notes, and worked through exam standard practice questions on the subject matter covered, more past questions and answers will be provided for you to do the extra practice and evaluate yourself during your spare time.

13. I see the 2018 timetable has no classes during August to November. Why?
A key limiting factor in our schedules is lecturer resources. Most of our lecturers teach the CTA with other universities (Wits, UJ and UNISA) and become very involved with the marking of CTA during this period –and as such, will hardly be available to run classes. So we schedule our classes to release them to go mark CTA and bring back that expertise to help us run the last lap of the course –the SAICA Board 1/ITC course that starts in November.

14. What if I did not do a BCOM/Honours Accounting and need lessons in Taxation, will I be able to start from the basics?
Yes! As we have structured our course and aligned it to the UNISA CTA structure, we are confident that each module will start from the basics. Our key advantage is that having taught the CIMA for years, we are in unique position to know what attributes CIMA members bring to the SAICA Board 1, and can safety say whilst presumptions will be made on the Management Accounting Module, we are only too mindful that SAICA Board 1/ITC is very technical especially on the Financial Reporting, Auditing and Taxation module. It is therefore imperative we recognise that you will need specific grounding in these modules –so, every special effort will be made to ensure these start from the basics, and the knowledge developed to the applied and integrated level required to do well in SAICA/ITC exams.

I was part of the Jan 18 intake in relation to the CIMA-to-CA program.

I found that the operational processes were carried our extremely well, upon collection of our textbooks, everything was ready for us to collect and go, no admin. Kicking off the program on the right foot!

In completing the course, I found that management of CQ supported unconditionally. They knew what we were going through. We received several motivational WhatsApp messages from Valentine (CEO), telling us to hang in there.

From a lecturer point of view, these guys knew what they were talking about. I found that a 45min lecture is equivalent to 3 hours of self-study. The lecturers were open to discussion and reachable after hours.

The biggest highlight for me was that each of the candidates received personalized feedback on every paper he/she wrote. The feedback was constructive and applicable to our areas of improvement.

We were valued and constantly motivated to keep going, in the end, I think I would have struggled to pass the ITC (first time) without the professional guidance and assistance from the entire CQ team!

Thank you for changing our lives!
My association with CharterQuest began in 2014. I was blown away at my first open day. The quality of service has only evolved over time with technology.

I have studied both my CIMA Strategic Level and the CIMA-to-SAICA programme through CharterQuest.

CharterQuest focuses on delivering on every aspect of the value chain. The passion for student success stems from the core of its business model. The entire team are driven to deliver their output with perfection.

My CIMA to SAICA conversion programme journey began by attending the open day at the Sandton campus. The booklet we received entailed all the keys facts about the conversion informing you at that point where you stand. Questions were asked and were adequately addressed.

Next step was registration which was simple through the online portal. I was given the opportunity to sample the quality of the lecture through online streaming. I was satisfied by the knowledge of the lecturer and the ability to transfer the content of the materials. The textbooks provided were all relevant, useful, latest and definitely University standard.

The course materials were simple to understand, lots of practice questions.

Additional practice questions in each subject were provided. The online portal housed all the necessary content for download or print. The online portal was accessible directly from the web or via the app. This was a brilliant and innovative way to communicate to students.

I found the tests and mock exams good practice for the exams. These were well structured and properly communicated.

The lecturers are dedicated and committed to the success of the programme. They are always on time and always available to assist. The lecturers have possess practical experience which enhances the lecturing quality.

The Board course for me was the highlight as this is where my knowledge for the content came together. The board course material contained sufficient information for the final stretch into the exam. The notes were summarized and easy to follow. Adequate questions were provided. Principles were reinforced during classes. The motivation and confidence the lecturers had in the students was constant.

I am so grateful for CQ, the staff, management, lecturing team has been a pillar in my studies and contributed tremendously to my success.

Make the right choice, choose CQ as your Institution.



THE CIMA-SAICA MEMBERSHIP AGREEMENT
''it is important for both of us because we've got the big number of professionals, mainly Chief Financial Officers in business, and this is where the qualification of a Chartered Accountant and that of a CGMA is very useful in running successful enterprises, to make sure that those CFOs are able to add value in business, and respond to practical things like sustainable growth, issues of avoiding the emergence of downgrades, issues of enhancing good governance, and making sure that corruption does not become an issue where Chartered Accountants and CGMAs have got a presence.''
Dr. Terence Nombembe
CEO: SAICA